Bed bugs are a homeowner's worst nightmare. If the recent surge of bedbugs infestations in Paris has you spooked, read on.
Though small in size, bed bugs can quickly become a big problem if left unaddressed. First, it's important to know a bit about these tiny (creepy and ghastly) intruders:
1. Appearance: Bed bugs are small, flat, reddish-brown insects that measure about 5-7mm in length. They are oval-shaped and often resemble apple seeds.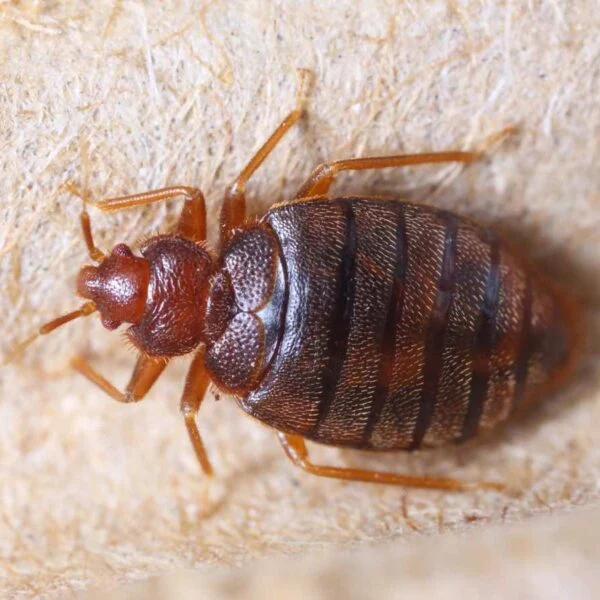 2. Feeding Habits: Bed bugs feed on the blood of humans and animals, mainly at night while their hosts are asleep. Here's how they grow: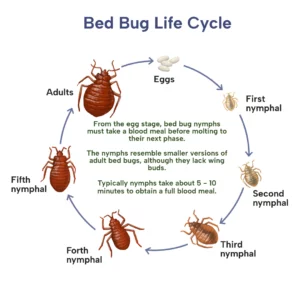 3. Elusive Nature: Bed bugs are nocturnal and adept at hiding in tiny crevices, making them difficult to detect.
Methods of Entry Into Your Home
1. Travel: One of the most common ways bed bugs make their way into homes is through travelers. Bed bugs can hitch a ride on luggage, clothing, and personal belongings when you stay in an infested hotel, hostel, or vacation rental.
2. Second-Hand Furniture: Another frequent entry point is used furniture or items acquired from garage sales, thrift stores, or online marketplaces. Bed bugs can hide in the seams, cracks, and upholstery of couches, chairs, mattresses, and other furniture.
3. Visitors and Guests: House guests may unknowingly bring bed bugs with them: on their bags, backpacks, or clothing.
4. Shared Laundry Facilities: Bed bugs can spread from one person's infested clothes to another's in shared laundry facilities.
5. Neighboring Infestations: Bed bugs are expert travelers within apartment buildings and shared living spaces. If a neighboring unit is infested, bed bugs can easily migrate through wall voids, electrical outlets, or shared pipes.
How to Detect Bed Bugs
Early detection is key to preventing a full-blown infestation. Here's how to check for them.
Step 1: What You'll Need
Flashlight: A bright flashlight will help you see into dark corners and crevices where bed bugs like to hide.
Magnifying Glass: This will help you get a closer look at small insects and their droppings.
Plastic Bags or Containers: For collecting samples if you find any suspicious bugs.
A Credit Card or Plastic Card: To run along seams and crevices for signs of bed bug activity.
Step 2: Know what you're looking for
Look for live bugs, molted exoskeletons, or tiny reddish-brown fecal spots.
The droppings consist of digested blood, so they will start red, and then get darker once they dry. The spots will appear rust colored or black, and are about the size of a dot from a marker. Some people say they look like ink stains.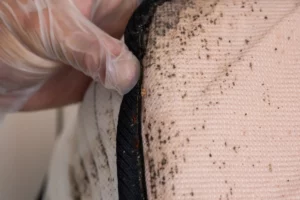 Step 3: Prepare Your Space
Before you start inspecting, remove all bedding, including sheets, pillows, and blankets to expose potential hiding spots
Step 4: Check the Bed
Examine the Mattress: Start with the mattress. Inspect seams, tufts, and folds for any signs of bed bugs. Pay extra attention to the seams and corners.
Inspect Box Springs and Bed Frame: Check the box spring and bed frame in the same manner. Bed bugs often hide in and around these areas.
Step 5: Inspect Other Furniture
Nightstands and Dressers: Bed bugs can hide in the cracks of wooden furniture, especially if it's near the bed. Check drawer joints, edges, and the back of the furniture.
Examine Upholstered Furniture: If you have any upholstered furniture in the room, look closely at seams, folds, and any gaps where bed bugs may hide.
Step 6: Check Other Areas
Walls and Electrical Outlets: Bed bugs may hide in cracks and crevices in the walls or electrical outlets near the bed.
Carpet and Baseboards: Examine the edges of the carpet, baseboards, and any other small gaps in the room.
Step 7: Collect Samples
If you find any suspicious bugs or signs of bed bug activity, collect samples in plastic bags or containers for further inspection. Take clear photos of any specimens for identification to be sent to a professional bed bug/pest control service company.
If you believe you have bed bugs, you'll need to call in a professional. We'll share prevention and extermination tips next week.