Go sump pump, go sump pump
Even though the term sump pump makes us want to break out into an early 90s hip hop beat, let's cut to the chase. A sump pump is an integral component of any home that's prone to water intrusion (i.e. a home built at the bottom of a hill or in a flood zone). And making sure your sump pump is well maintained is essential for keeping your basement dry.
A sump pump is a simple machine installed at the lowest point of a basement to remove excess water that accumulates in the sump basin. And the sump basin is a pit that is dug into the floor of the basement to serve as a collection point for water that has seeped into the home.
This 60 seconds video 'sumps' it up nicely: click here.
There are two main types of sump pumps: pedestal sump pumps and submersible sump pumps. Pedestal sump pumps are mounted on a pedestal above the sump basin, while submersible sump pumps are fully immersed in the sump basin. Which kind do you have?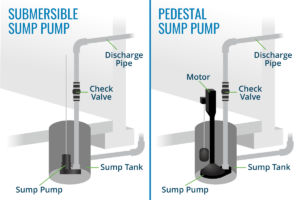 Either way, regular maintenance is imperative to ensure that your sump pump continues to function properly in preventing water damage and to protect your basement from flooding.
Test the pump regularly
Test the pump regularly (once a year is good). We recommend before the 'wet season' in early spring to make sure it will be functioning for when you need it most. Next time your plumber is doing a house call, you can ask to check on your sump pump.
Check for worn parts
Your plumber will also check for worn parts. A sump pump's moving parts tend to wear out over time.
Keep the sump basin clean
Clean the sump basin regularly. Remove the lid, if it has one, and remove any debris (dirt, sand, gravel, etc) that may clog the pump and interfere with its operation.
Check the discharge pipe
The discharge pipe is connected to the SP itself, and is often submerged, or jutting out just above the ground outside the home to connect to the drainage in your area. Check the discharge pipe outside your home to make sure it is clear and functioning properly.
Check the float switch
A float switch is a device within the sump pump that detects flooding within the sump itself. It's what turns your sump pump on and off in response to the amount of water in the sump pit. Make sure it is functioning properly or if it needs to be replaced. Most manufacturers recommend replacing the float every two years.